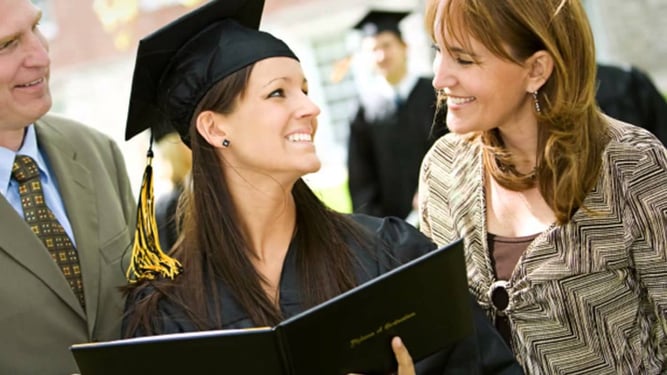 If you're a parent, chances are your laundry list of things to worry about began the day you held your newborn baby for the first time. How will I keep this tiny being alive? How can I protect her from the dangers and evils in this world? Will we be able to afford to send her to college?
As I'm sure you're learning now, those worries don't dissipate the day your teenager turns 18, graduates high school, or moves away to college. Being a parent is a lifelong commitment and we continue to want what is best for our kids as they enter adulthood.
This is evidenced by the growing popularity of PLUS loans, unsubsidized federal loans parents can take out on their students' behalf to cover college expenses after financial aid, scholarships and grants have run out. The drawback is that student loan debt has been increasing among adults age 50 and over, and some parents are having to push off retirement due to shouldering their children's student debt.
Great news if you're a parent of an Oak Hills Christian College student! Oak Hills was recently ranked among the most affordable colleges for parents based on findings by Student Loan Report. The Parent Student Debt Indicator (PSDI) calculates the average amount of PLUS student loan debt borrowed by parents per undergraduate student per year. When compared to more than 1,200 schools in the United States, Oak Hills ranks the 52nd lowest amount of PLUS loan debt incurred. That means OHCC is in the top 4-percent as far as affordability in this particular ranking.
Matt Myrick, the Financial Aid Director at OHCC believes this is due to the high percentage of student scholarships and financial aid awarded. From $4,000 President's Scholarship to $500 Church Match Scholarship, Oak Hills offers aids of various purpose and need.
So cross one thing off your worry-list and rest assured that your student and financial future is in good hands at Oak Hills Christian College.
---
Are your children looking to attend college this Fall? While many colleges have stopped accepting applications and awarding financial aid, Oak Hills Christian College is still offering both!
Have them fill out the application today, and we hope to be part of their new journey.
 Back to Real Learning