The Word Became Flesh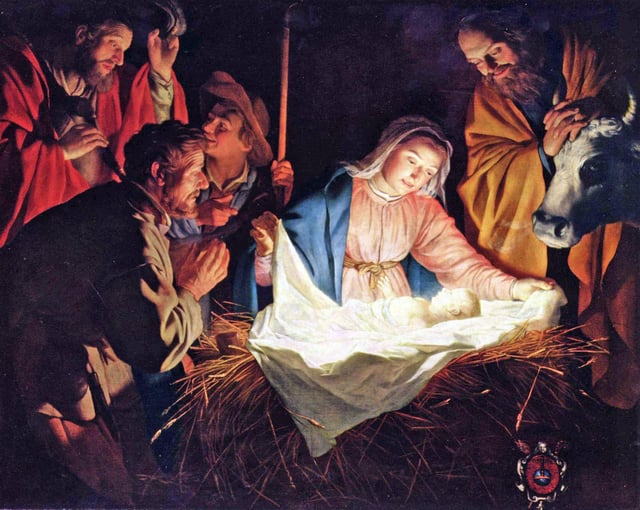 Our waiting is over! Today we celebrate the of the birth of our savior. Just as the prophets foretold, Jesus was born to a virgin in Bethlehem through the lineage of David. A bright star led kings and shepherds there to bestow him with gifts and adoration.
Although at Christmas it is natural to reflect on the image of baby Jesus in the manger, the real reason this baby was born was to die for our sins. It is only the beginning of the greatest love story ever told. Let's celebrate that he is coming again, but not as a humble baby. When Christ returns it will be as a conquering king accompanied by the armies of heaven. He is coming to fulfill the rest of the prophecies, to destroy death and darkness and "ransom captive Israel," that we may share in His victory for eternity.
The word Christmas begins with Christ. Let us not shy away from wishing our friends and neighbors "Merry Christmas" for fear of offending them. Let songs of mirth ring from the rooftops as a reminder of what this special day symbolizes. Let the empty space of loved ones passed be filled with peace, strength, grace and comfort on this blessed day, as we recognize we will see them again. And let our love for one another reflect Christ's unconditional, unfailing love for us all year long.
Advent Week Five
Sing:
Come All Ye Faithful
Hark! The Herald Angels Sing
Read:
Luke 2:8-20
John 1:14
Philippians 2:6-11
Remember:
May the anticipation of the past five weeks make this year's Christmas celebration that much more joyous. Let us keep our eyes fixed on Jesus all through the new year, and remember Advent in our hearts as we patiently await His return.
 Back to Real Faith