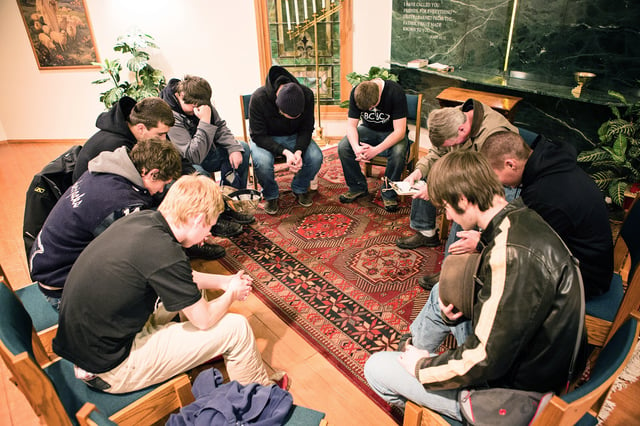 Along with leaving home and beginning college comes greater freedom and independence you may not have experienced until now. Pretty much all of your day-to-day decisions will be your own. Sounds great, right? But it might be harder than you think to wake up for early morning classes and remember homework and project deadlines. Furthermore, your parents and family (probably!) won't be around reminding you to make good choices like eating healthy, doing laundry, tidying up, and urging you to go to church on Sunday morning.
While we are a Christian college centered on the Bible, we purposefully do not hold a Sunday church service on campus. At Oak Hills we dedicate one hour, three days per week to Community Life Hour which is a time for students, staff and faculty to fellowship and worship together. But we believe Sundays should be your day to fellowship with the wonderful, diverse Christian community in Bemidji.
There are more than 30 Christian churches in Bemidji spanning several denominations. With a wide variety ranging from small to large congregations, traditional to contemporary services and venues, there's bound to be a church that feels like "home" to you.
We urge our students to join a local church for a few reasons. First, joining one of the churches in Bemidji is an easy way to expand your network to include area alumni, pastors and Christians from all walks of life. If you fall in love with Bemidji (like thousands of alumni before you), the people of your church will serve as a helpful resource to plug you into future careers, contacts, Bible study groups, various ministries and more.
Second, being an Oakie means being involved in the community. Wherever you go and whatever you do, you are a representation of Jesus, the Christian faith, and Oak Hills Christian College. And while your college experience is brief, your local church experience should be life-long, regardless of where you're living. By being part of a local church, you will receive personal support, gain opportunity to serve, and further develop your discipleship skills as you participate in the church's mission.
If you belong to a specific denomination or aren't sure where to start, contact our Church and Community Relations staff. Jim and Rick would be pleased to help you single out a few churches to try, customized to your individual preferences or needs.
 Back to Real Faith