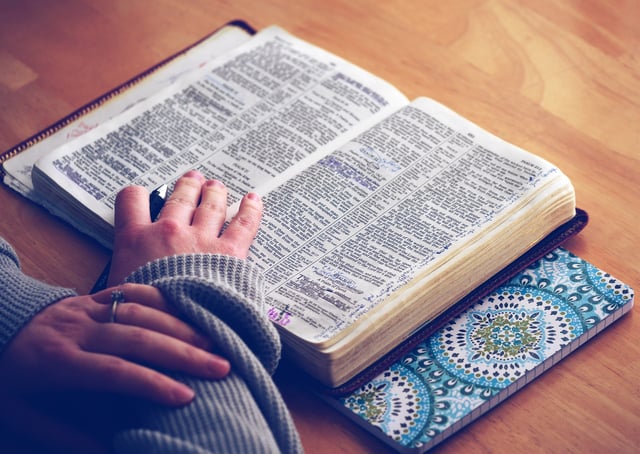 You probably realize that even though there are many rewarding elements to being a follower of Jesus, there seems to be an awful lot of struggle in life too. While we hold on to God's great promises, we realize He never promised us lives without tribulation, pain or loss.
It's easy for believers to feel like outsiders in this day and age. As a Christian college in Minnesota, we understand #TheStruggleIsReal. Oak Hills offers a serene setting with God loving individuals who pray, encourage and empower you to complete your college education with Christ being the center. This list shares common trials and triumphs we face in living out our Christian faith.
TRIALS
Resisting Temptation & Turning the Other Cheek
Satan presents us temptations in every shape and form. While we know we worship a forgiving God, we strive resist temptations we know are wrong. Additionally, it's human nature to retaliate when someone wrongs us. However, Jesus calls us to forgive our transgressions and turn the other cheek. We are called to speak truth as well as to love our enemies. This can be difficult, especially in a world that is living in wicked ways and has turned away from God.
Living Under Scrutiny
Being a Christian comes with all the preconceptions of how the stereotypical Christian should look and act. Being openly Christian places you centerstage in the spotlight, and the rest of the world is watching, waiting for you to stumble or forget your lines. Use your platform to show the world that Christians are imperfect sinners too, and we're all in need God's grace.
TRIUMPHS
Peace That Surpasses Understanding
Studies show that stress is the number one health issue, being the root of up to 90% of general practice doctor visits in the U.S. It's all too easy to get swept up in the whirlwind of our everyday lives and often we fail to designate time to meditate in God's Word. Isn't it wonderful knowing that no matter how much responsibility you bear, God is ultimately in control of it all? Relinquishing control and trusting that God is bigger than our problems is so liberating!
Remembering His Promises
While life is unfair and downright ugly sometimes, our Christian faith brings light to the darkest situations. The sting of death is minimized with the realization of being reunited again in paradise. The thought of seeing Jesus face to face with no more suffering or sadness gives us the strength to make it through hard times. Although we've suffered and Satan has influence here on earth, we take heart remembering God will serve up justice and conquer evil once and for all.
When life gets hard, remember John 16:33 which says:
"I have said these things to you, that in me you may have peace. In the world you will have tribulation. But take heart, I have overcome the world." ESV
 Back to Real Faith