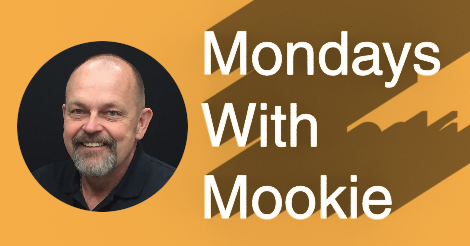 As you're hopefully aware by now, I started my first ever blog a few weeks ago. So far my entries have gotten a pretty good response which is exciting to me, being a sixty-something grandfather of six. I've titled my blog "Mondays with Mookie" and everyone has been asking how I got the nickname Mookie. Okay I will let you in on the meaning behind Mookie.
Now mind you, this is something that has remained confidential outside the family. You know how family works! They stick up for you and keep your secrets, like the Godfather. So when I share this information, you will almost be like family. It's kind of like being in God's family...once you are in, your chances of getting out are very slim!
About 34 years ago, my two-year-old niece Abby, could not say Mike. It came out "Muck." Well, that went on for a short time before "Muck" became "Mook." Now I ask myself, is Mike really that hard to say? At the same time there was a famous basketball player by the name of Mookie Blaylock who played for the Atlanta Hawks. So eventually "Muck" became "Mook" which became "Mookie."
All my grandchildren call me Papa Mookie, my nieces and nephews call me Uncle Mookie. Heck, even my sisters, most of my relatives, and my wife call me Mookie. You could yell "Mookie!" in a large crowd and I would look around to see who was hollering for me.
So, Mookie it is.
Stay tuned for more stories about how God is using Oak Hills to transform lives, including mine!
-Mike (Mookie)
Michael Rasch is the VP for Enrollment at Oak Hills Christian College.
 Back to Real Faith