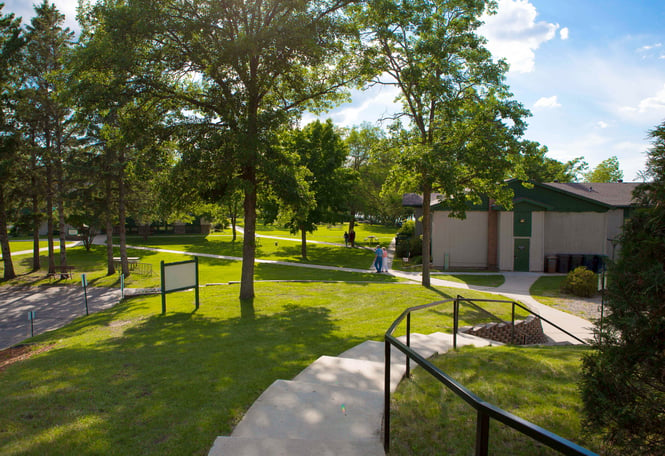 Are you (or your parents) hoping you'll attend college close to home? Are you hoping to spread your wings and explore different parts of the country? Maybe you want to find a college as far away from home as possible. Geographical location is a big factor in deciding which colleges and universities to add to your shopping list. Consider proximity to campus housing, grocery stores, restaurants, entertainment, and transportation hubs, such as the airport.
Oak Hills is located on 185 acres of wooded, rolling hills along the lakeshore of beautiful Lake Marquette in northern Minnesota. We are located just a few minutes from Bemidji, MN, the first city on the Mississippi River. Bemidji is a beautiful place to live, with plenty of recreation, places to eat and shop with a vibrant arts and cultural community. Oak Hills is 5 minutes away from downtown Bemidji and the Sanford Event Center; and 7 minutes from big grocery stores such as Walmart and Target, and the Bemidji airport.
There are also more than 50 churches and congregations in the Bemidji and surrounding areas. The Church and Ministry Relations Director at Oak Hills can help you find a great church to attend during your time at OHCC.
Another important factor to consider when choosing the right christian college, is the campus size. If you're the kind of student that perform better in a small classroom setting with personal attention from your professors, you will fit right in at Oak Hills Christian College. With a 12:1 faculty-to-student ratio, the individual attention you'll receive from your professors is unsurpassed. We believe this helps equip students to be more successful, not only in their studies, but in their career field after graduation.
At Oak Hills Christian College, you'll have your own identity and will soon feel like you're part of a close-knit family. From personable counselors to like-minded students, Oak Hills boasts a harmonious community that can't be found at large universities.
 Back to Real Life