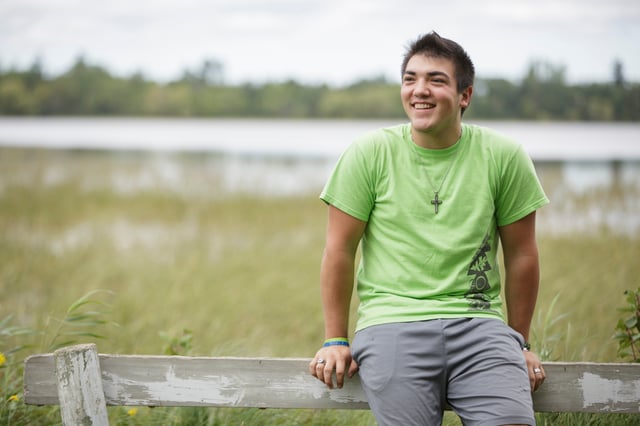 Deciding where to go to college is a big decision and a huge investment of time, money and hard work. What programs are available and what career or ministry do I want to pursue? What kinds of people will I meet? Will I stay close to home or study abroad? These are some of the questions you've probably pondered when considering one of the biggest decisions in your life so far.
Here are some elements we think distinguish Oak Hills from other Christian colleges in Minnesota.
Life is ministry.
You don't have to be majoring in Pastoral Ministry or Youth Ministry to lead a ministry. You may not realize it, but your life is a ministry. As a Christian, the world looks to you for advice, guidance, and your reaction to life's ups and downs. Whichever major you choose, you will leave Oak Hills fully prepared to approach your life, ministry, or career from a solid, Biblical worldview.
Personal on Purpose.
The number one thing our alumni reminisce about is about the relationships they made at Oak Hills. As a small Christian college, we can almost guarantee you'll make friendships that will last a lifetime. Staff and faculty start off as your mentors and eventually transform into friends, confidants and "spiritual parents" (as one alumni put it) by the time you graduate. We can't say enough about how refreshing it is to attend college where everyone knows your name within your first few days on campus.
Dignified diversity.
Northern Minnesota is already a culturally diverse region and the people you'll meet at Oak Hills Christian College come from all walks of life. The first thing you'll notice is that there are young students, old students, single students, married students, international students, students who live on campus, students who commute, and students who come from a variety of denominations. As an interdenominational college, we love learning about what makes each of our students unique. We celebrate the one thing we all have in common and that's our belief in Jesus Christ, the son of God and savior of the world.
God's great outdoors.
Imagine going to a college with God's people studying God's Word surrounded by God's beautiful creation. There's so much beauty waiting for you in the northwoods of Minnesota! Oak Hills is located on 185 acres of wooded, rolling hills along the shores of secluded Lake Marquette ( just one of Minnesota's more than 10,000 Iakes). We're near the city of Bemidji which is not too big, but there's plenty to do! Locals enjoy myriad all-season outdoor activities including hiking, fishing, hunting, cross country and downhill skiing, snowmobiling, canoeing, and so much more!
Transformation.
Oak Hills Christian College is a place of transformation. Our campus is currently undergoing transformation in the form of a new residence hall. Our gorgeous new state-of-the-art Thompson Hall will provide lakeside living for on-campus men and women for years to come. Oak Hills is a place of spiritual transformation as well. We love hearing testimonials from our alumni about how their lives, outlook, and attitudes have changed for the better. No matter how deep your faith is, you will leave Oak Hills a different person than when you arrived.
 Back to Real Life