It's not just formal programming that makes Oak Hills the best Christian College in Minnesota. A great on campus college experience must include fun.
Sports on campus are not just for those who can play volleyball, basketball, or run cross-country. We have some intramural teams as well, for those who love to be active and compete but need a more relaxed atmosphere and something less time-consuming than a full-season team that travels.
Intramural Floor Hockey
On Tuesday and Thursday afternoons, Oak Hills has a floor hockey tournament which lasts all of second semester. 3-4 teams (including one of all staff members) challenge each other in a regular rotation. Friendly banter and good-natured teasing gets tossed around among friends. In spite of the lighthearted tone this game is a legitimate challenge and the players get extremely competitive. The puck gets slammed around at speeds that match the smack talk, and often spectators have to "duck to avoid the puck" as it whizzes passed their heads. It's a thrill.
Pick Up Soccer
Of course, there are other games in the same challenging, yet wacky spirit. Oak Hills has an open indoor soccer game every Monday night around 9 pm. These teams aren't chosen ahead of time - anyone who wants to come and play can do so without any obligation to keep coming each week. It's always a fun time and a great way to meet new people and build trust.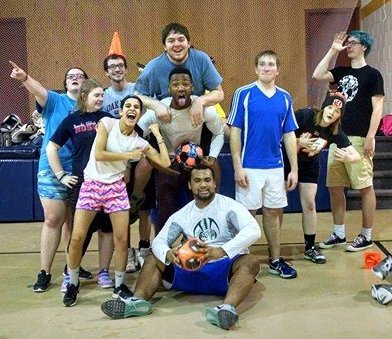 The Ultimate Gym Sport
Want more Christian college student activities? We have Thursday night Dodgeball! This is a spontaneous event, and can sometimes turn into a schoolwide throwdown that's not to be missed. Everyone knows this game. Hit players on the opposite team with soft playground balls but don't let them catch your ball or you're out. You can have just as much fun watching as joining in the game too, especially when "advanced" players start showing off complex dives and footwork to avoid getting hit.
Why are intramural sports such an important part of Christian athletics at Oak Hills?
God created us as active, energetic beings, and our bodies are temples of the Holy Spirit that need to be taken care of (Rom. 12:1). We love to see students and staff competing against one another, breaking a sweat and making memories, after being in class all day long. Some people feel that they aren't quite as athletic as they'd like to be, and are shy about joining the official Wolfpack teams. God has granted some of the students gifts in other sports such as soccer or hockey rather than in basketball or volleyball, and that's okay! We all have different abilities, and here at Oak Hills, we like to cultivate and encourage people to use those gifts in ways that they enjoy and that bless others. (Especially if your talent happens to be the ability to duck quickly).
We'd like to welcome you to visit us soon. You can play a pick up game and you can find out from real students what real life is like here at Oak Hills. For more information about christian athletics and other christian college student activites just contact us and start the conversation today!
Think you might be ready to check out the place in person? We do campus tours on the 1st and 3rd Fridays of every month. These include meetings with staff, faculty, students, and even attending a class or our fellowship hour. We'd love to have you come visit anytime.
 Back to Real Life