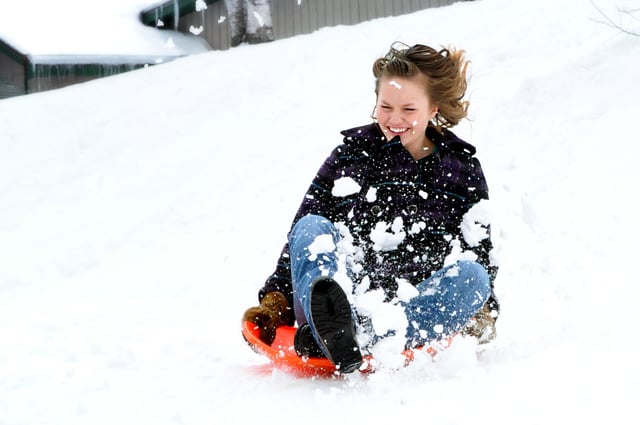 Oak Hills Christian College's campus is nestled in 185 acres of wooded, rolling hills overlooking serene Lake Marquette. As you can imagine, this nature-friendly campus provides students with endless activities to keep their bodies and souls healthy throughout the year, even in the dead of winter! While the sub-zero temperatures aren't for the faint-hearted, Minnesota-approved winter gear and these winter activities will help you seize the deep freeze!
Ice fishing on Lake Marquette
Oak Hills students have the luxury of living right on a lake, enjoying access to ice fishing whenever they want. Lake Marquette is a 504-acre natural lake with a maximum depth of 51 feet, with good numbers of walleye and northern pike. Other fish species include largemouth bass, bluegill, crappie, rock bass and perch.
Sledding
With our prime location amidst rolling hills, there's no shortage of places to go sledding! Students can grab a sled, climb the hill, and feel the surge of adrenaline as they dash through the snow. Just make sure to be safe (we recommend helmets!) and choose a location with minimal trees.
Snowshoe
Oak Hills Christian College offers a bounty of wooded trails and shoreline to explore. But why run through piles of snow when you can literally walk on top of the snow? Snowshoeing is fun, it's easy, and it's good aerobic workout. Students will strap on this ancient footwear, and explore the campus grounds like a true Minnesotan.
There's truly no limit to the outdoor activities students can enjoy at Oak Hills Christian College. Students can visit Buena Vista Ski Resort for a day of skiing or snowboarding. Some students visit neighboring cities to enjoy a fresh vantage point by dogsled. And many take advantage of the many public trails to cross country ski. Oak Hills is a place where students can truly live for God and enjoy his majestic creation each day, all four seasons.
 Back to Real Life