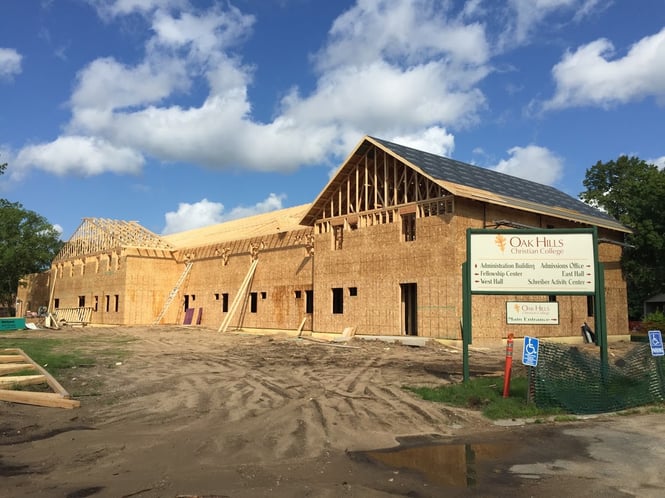 Oak Hills staff has thoroughly enjoyed watching the progress on a few improvement projects this summer. We can't wait for our students to arrive and share in the excitement of what is surely making Oak Hills one of the top Christian colleges in Minnesota.
New students will certainly notice the new construction of what is soon to be Thompson Hall, a 88-bed residence hall with semi-private bathrooms, an impressive game room and spacious commons areas on each floor. Returning students will notice the widened Oak Hills Road approach into the college, complete with curbs, sidewalks and lamp posts. The road paving was completed this week and is now ready to welcome arriving students and their families.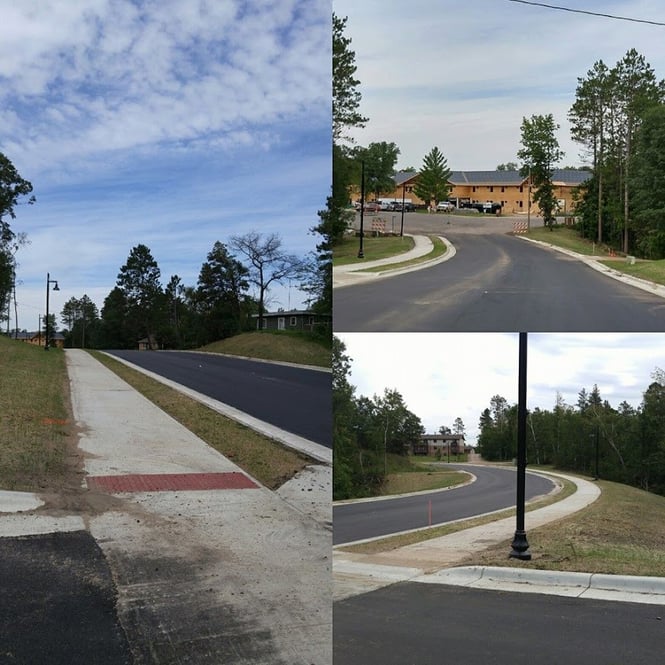 Thompson Hall is scheduled to be move-in ready by the beginning of spring semester. This week crews are working on tar papering and shingling the residence hall, and are scheduled to finish the roof by September 1st. The plumbing and electrical wiring will begin in the weeks following the completion of the roof.
These highly anticipated improvements are just one more thing to praise God for, and we are pleased that Oak Hills will be able to remain one of the most affordable Bible colleges in Minnesota. Tuition has not been affected by these projects, as the road expansion project was considered a necessity by MnDot, and almost all of the Thompson Hall construction has been funded by generous donors.
We are so excited for our students to see the amazing transformations that are being done to make Oak Hills one of the best Christian colleges in Minnesota! Be sure to check back frequently for residence hall updates.
---
Come see the exciting updates for yourself! Attend our Fall Preview Days on October 21st to spend some time touring our lakeside campus and get a taste of what Oak Hills is really like.
 Back to Real Life